German Flecktarn Tropical Combat Trousers
Tropical weight flecktarn trousers, as introduced into the German military supply during the late 1990s' Balkan operations. These are the same colour and cut as the standard German military trousers, but benefit from being a quick-drying, lightweight twill fabric which is closer to the weight of the German flecktarn shirt or the desert three colour trousers. The trousers have a button waist and zip fly, two press-button lid cargo pockets, two hip pockets and one seat pocket. They also have ties at the ankles to allow them to be bloused which helps to keep out dust and insects. The tropical trousers have a strong colouration with minimal colour variation between the seat, knees and other parts of the trouser leg. Machine washable on delicate and inside out.
Available options are: 31R , 33S , 33R , 35S , 35R , 37S , 37R , 39S , 39R .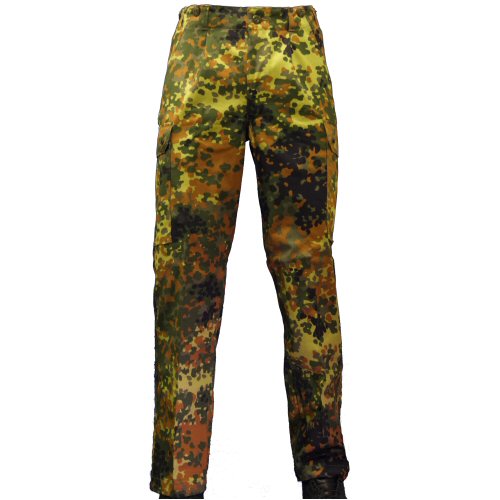 ---